Gordon Ramsay Pub & Grill Vegas will be opening December 18, 2012, a few days before BurGR Gordon Ramsay opens at Planet Hollywood. This makes 3 Ramsay eatery's in Vegas all opening this year! The other being Gordon Ramsay Steak @ Paris of course.
Two new restaurants opening in Las Vegas in the same week, I would possibly expect Mr. Gordon Ramsay himself to be present to promote some of this!
On to the Ramsay Pub & Grill! Opening December 18th, it will offer dinner only until mid-January, when it will then open for lunch as well. Former Sous Chef @ Ramsay's London West Hollywood, Jeremy Berlin, will be the Executive Chef of the Pub & Grill. There will be some strict standards at this pub!
The "Grill" part of the eatery will have dishes including New Zealand Red Snapper, lamb t-Bone, brick-pressed cornish chicken, Dry aged, 30-ounce bone-in beef rib eye, and many other offerings, while the "Pub" side will feature more drinks, such as 36 beers on tap! (damn.. goodluck to the servers when they are asked "What do you have on tap?"!)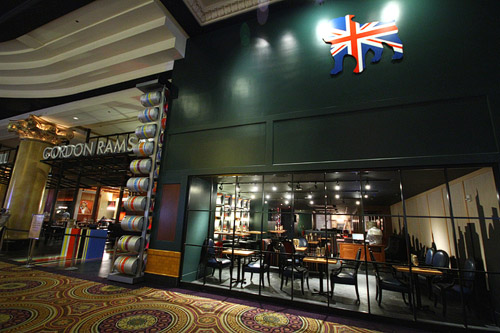 December is a busy Ramsay-Vegas month! In case you're wondering, Gordon Ramsay Steak @ Paris has a long wait-list, and its very hard to get in (difficult even to get a reservation at times!). These places are definitely going to be BUSY! Show up early, or try to get reservations so you aren't disappointed if you're looking for a Ramsay Vegas Experience!